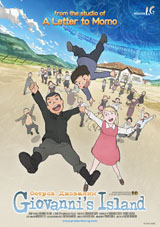 On August 15th, they told us we had lost the war.
At that time, we did not really understand.
Then one day, everything changed.
Many soldiers, wearing uniforms we had never seen before, arrived on the island.
That was the day I met Tanya.
Production I.G announces Giovanni's Island (original title: Giovanni no Shima) a new hand-drawn animated feature film directed by Mamoru Oshii's longtime collaborator, Mizuho Nishikubo, and penned by Shigemichi Sugita (Kita no kuni kara / From the Northern Lands) and Yoshiki Sakurai (Ghost in the Shell: S.A.C.). The film is presented by the Japan Association of Music Enterprises (JAME) to celebrate its 50th anniversary, and it is planned to be theatrically released in Japan from February 22, 2014 by Warner Entertainment Japan. Production I.G is handling international sales worldwide.
Story
In the aftermath of the most devastating conflict mankind had ever experienced, the tiny island of Shikotan became part of the Sakhalin Oblast... and on the unhealed border in this remote corner of the world, friendship among children from two different countries timidly blossomed, striving to overcome language barriers and the waves of history. Inspired by true events.
About Shigemichi Sugita
Born in Toyohashi, Aichi Prefecture, in 1943. A multi-awarded director, scriptwriter and film producer, he is probably best known for directing the hugely successful Hokkaido-set TV drama series, Kita no Kuni kara (From the Northern Lands), that started in 1981 and ran for 21 years, spanning one season and several specials, with audience share peaking 38.4%. He directed a number of other popular dramas (including Shonen H / A Boy Called H, from the award-winning novel by Kappa Senoo) and three feature films, namely Yushun - Oración (1988, from Teru Miyamoto's novel), Last Song (1994), and Japan Academy Prize-winner Saigo no Chushingura (The Last Ronin, 2010). He is currently chairman of the All Nippon Producers Association and President & CEO of Nihon Eiga Satellite Broadcasting Corporation.
About Mizuho Nishikubo
Born in 1953. A longtime and most trusted collaborator of Mamoru Oshii, Nishikubo has worked as animation director under his real name of Toshihiko Nishikubo in most Oshii's animated films, including Ghost in the Shell (1995), Palme d'Or-nominee Ghost in the Shell 2: Innocence (2004) and Golden Lion-nominee The Sky Crawlers (2008). It is said that Oshii's movies wouldn't look the same without his contribution. His credits as director include, Video Girl Ai (1992, OVA), Otogi Zoshi (2004, TV series) and Atagoal: Cat's Magical Forest (2006, movie). He also directed the music clip Tsepi i kol'tsa / Chains & Rings (2003) for Russian rock star Linda, and the internationally praised NEXT A-Class commercial film for Mercedes-Benz (600,000 views on YouTube in 3 days). His latest feature film, Musashi: The Dream of the Last Samurai (2009), written by Mamoru Oshii, screened in Locarno, Sitges, Warsaw, Stockholm and Vladivostok.